QUESTIONS & ANSWERS
Click through the questions below and find the answers you are looking for!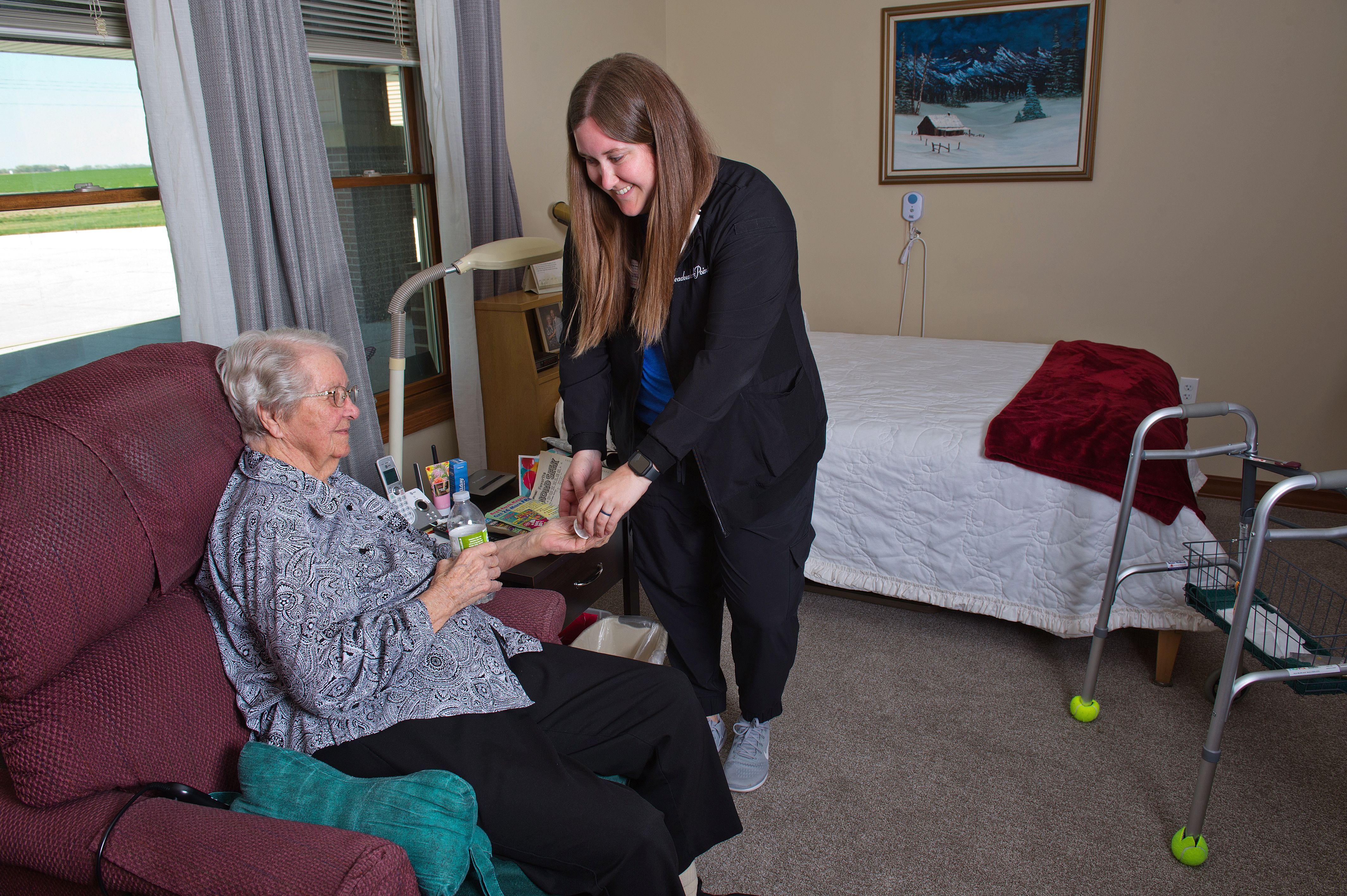 What sizes of suites are available?

The suites are divided into four groups of 'pods'. Each pod contains six suites: one two-bedroom unit that is 900 square feet, one that is 750 square feet; three single bedroom units that are 600 square feet, and one that is 500 square feet.

What is the cost? What is included?

The basic Monthly Rental Fee varies depending on the size of apartment selected. The monthly rental fee includes rent, utilities, trash service, cable television, and maintenance staff services. A coinless laundry is available for use, and a storage unit is furnished with each suite.

Are there any other fees?

There are no additional contract costs and no other monthly association fees.

What kind of personnel make up the staff and what are the staff hours?

Direct care staff consists of medication aides, LPNs and RNs. Each member of our staff is trained and certified for each service they offer. Staff is on duty 24 hours per day, 7 days per week.

What kind of activities will be offered?

In addition to activities you choose to arrange for yourself, there are a wide variety of planned activities available to those choosing to participate. These include concerts, art shows, museum programs, athletic events, and local school programs. We always look for opportunities to host cook-outs, holiday & birthday celebrations, and trips to observe farming activities such as calving or corn production. Other offerings may include trips to surrounding communities and traditional Cozad events such as "Hay Days."

A trained activities staff will provide classes, book clubs, spiritual groups, holiday functions, and other in-house or outside activities with a variety of cultural, educational, recreational and social components.

How are activities chosen?

Meadowlark Pointe residents will drive selection of activity programs through surveys and suggestions. Groups throughout the city of Cozad and the surrounding area will also be participating in activities, current events and bingo.

What is the meal program?

Meadowlark Pointe offers three nutritious meals per day. Between-meal snacks are available and we are always sensitive to special dietary requirements. Our residents also have refrigerators and microwave ovens in their suites and they have additional cooking rights in the bakery, where food can be prepared by residents. Special diets are also provided.

Does Meadowlark Pointe provide a safe and secure environment?

All doors are locked at all times except for the front entrance door, which is kept unlocked for the convenience of our residents until 11 p.m. Alarms for other unexpected emergencies are installed where needed and maintained as required by law.

Is transportation available if needed?

Yes, local transportation is always provided to and from appointments or as needed.

Can we keep our pets or acquire new ones?

Meadowlark Pointe welcomes pets, knowing they provide companionship and friendship.

What about cost?

We strive to be very competitive with the other living options available. We intend to stay focused on being of financial value to you while setting an enviable benchmark for living in a unique and special setting. Our residents are some of the best people we know, and you deserve no less than the best.

What kind of personal assistance is available?

Meadowlark Pointe provides medication administration assistance to residents who need or want help. We also provide assistance to and from the dining room. If help is needed, each resident?s suite has a call system. A help pendant is also provided to each resident to wear when they are out of their room.

Is an RN on duty?

Meadowlark Pointe has a staff RN who reviews and monitors all care provided by the staff members.

How do I obtain more information about renting a Meadowlark Pointe suite?

Please call us at 308-784-4100 or stop by 2300 Avenue O in Cozad. We will be happy to answer any of your questions and help you with paperwork to begin the application process.